Comment of Kazbulat Tskhovrebov, the Minister of Foreign Affairs of the Republic of South Ossetia, to South Ossetia Today International Information Agency pertaining to President Putin's speech to the 70th Session of UN General Assembly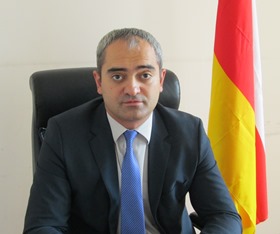 International community is following events of the 70th Session of the UN General Assembly.

President Putin's UN General Assembly speech was expected as he spoke on Russian vision on international situation, problems in Middle East and Ukraine.
I carefully listened to the President. There is no secret that South Ossetia has always been politically oriented to the Russian Federation and thus Russian opinion on definite terms of international agenda influences international policy of the Republic of South Ossetia.
Much has been said about the fact that effectiveness of the UN is reducing. Actually, the President proposed to breathe a new life into the UN, asked to keep in mind and not to give up the goals the organization had been created to achieve, and not to be a tool in someone's hands.
As Mr. Putin emphasized, there is no alternative to a consensus on terms of strict global management in new historical conditions in line with full respect to cultural-civilizational variety of the world and multiplicity of development models. The president took a stand for maintaining world order, for multipolar world against chaos, for foundation of international antiterrorist coalition against Islamic State, as suggested measures for meeting major global problems. Definitely, someone has to break centuries-old stereotypes, to renounce claims for everlasting exceptionalism. I'm sure there is no other way. Otherwise there would no longer remain any rules other than the right of the strongest. This topic is relevant for South Ossetia, as neighboring Georgia and its allies have been trying to "speak" with us only from the position of strength that in my opinion is unacceptable in modern world.
President Putin suggested forming an equal and indivisible security space not for the chosen but for everyone. Security question remains for our country essential today. Unfortunately, Georgia doesn't agree to sign an agreement on non-use of force against South Ossetia.
The president showed himself not only as an indisputable leader of his country, but also as a leader who can draw together international forces that would be ready to guard international relations and prevent breakdown of international legislation.
In general, Putin's speech met the current agenda and it would be wonderful if heads of other states consider the recommendations made by Russian politician, follow his example in reality checking and not only speak about problems, but also show readiness for discussion and finding solution to them.