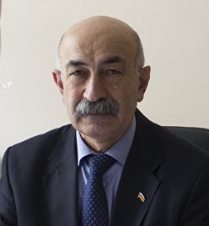 - South Ossetia recognized the independence of the Donetsk and Lugansk People's Republics in June 2014. After Presidential Decrees on recognition of the Republics were signed, the MFA of the RSO received instructions from President Tibilov to establish diplomatic relations with them. What can you say about the positive results of the Ministry's work in this direction?

- According to the Constitution of the Republic of South Ossetia, the foreign policy of the state is defined by the President. As for the Ministry of Foreign Affairs, it is an executive government agency that implements the agreed foreign policy of the state.
Indeed, June, 18 and 27, 2014 saw Presidential Decrees under which LPR and DPR were recognized correspondingly.
In pursuance of the President decrees "About recognition of the Donetsk People's Republic" and "About recognition of the Lugansk People's Republic" our Ministry maintains contacts with foreign policy departments of both republics. Diplomatic missions of the Republic of South Ossetia were opened in LPR and DPR on April 16, 2015.
Opening ceremony of diplomatic missions of the two Republics took place in Tskhinval on April 28, 2015. Work conducted by the missions promotes strengthening friendly ties between our states.
The two Republics are now developing, and we are ready for fruitful cooperation based on the existing potential. Currently memorandums on mutual understanding in different areas of cooperation are under consideration. These days, in particular, we expect a memorandum on cooperation in sphere of communication being signed. Alongside with this we maintain contacts with our colleagues in cultural, educational and political spheres. There are a lot of industrial plants in the Republics that can export their production to South Ossetia, and vice versa, our Republic is rich in natural recourses, such as mineral water, for example, in which our friends can be interested. Furthermore, we expect opening some joint manufactures.
Preliminary elections to local government agencies of the DPR and the LPR took place in October. Poll observers from South Ossetia monitored the elections and gave high assessment to the organization level of the elections and to living standards in the Republics that were good despite regular aggression from Ukraine.
People in South Ossetia carefully follow the events in Donetsk and Lugansk, deeply emphasize citizens of the Republics and wish speedy establishment of peace on these long-suffering lands.