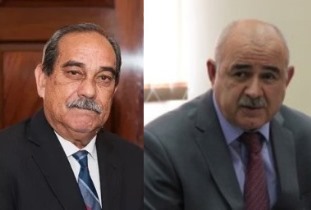 In framework of the official visit of Dmitrii Medoev to Nauru a range of meetings between the Minister of Foreign Affairs of the Republic of South Ossetia and representatives of international delegations were held.

January 31, 2017 saw a meeting of the South Ossetian Foreign Minister Dmitrii Medoev with His Excellency Peter M. Christian, the President of the Federated States of Micronesia.
During the meeting the parties exchanged opinion on issues of mutual interest, emphasized the importance of international cooperation against any kinds of violence and wars, which swept across many regions of the world, and marked the necessity of joint efforts, aimed at protection of environment.
Dmitrii Medoev told Peter Christian about the level of the Ossetian-Nauruan relations, about the cooperation with Russia and the forthcoming celebrations on the occasion of the 10th Anniversary of the Recognition of the Independence of South Ossetia by the Russian Federation. The issue of extension of international ties of South Ossetia with states in the region and search of new friends was also noted by the Minister.
In his turn the President emphasized the positive stay of representatives of South Ossetia in Nauru during the festivities, dedicated to the jubilee of the Republic.
Later on this day the South Ossetian Foreign Minister held a meeting with Nicolas Messet, Special Representative of the Government of the Republic of Indonesia, where the parties exchanged opinion on current terms of regional and international agenda.
In particular Mr. Medoev told Mr. Messet about the history and international position of the Republic of South Ossetia.
The meetings took place in a warm and friendly atmosphere.
Tskhinval, February 1, 2018