Announcement of the press-service of the Ministry of Foreign Affairs of Republic of South Ossetia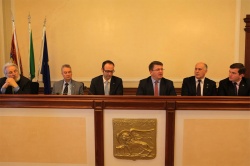 On the working visit of the acting Minister of Foreign Affairs of Republic of South Ossetia D.G. Sanakoev to Italy
A working visit of the acting Minister of Foreign Affairs of Republic of South Ossetia to Italy took place during 27-31 March 2014. In the frame of the visit the Minister carried out a number of meetings in Assisi, Belluno and Venice.

In Assisi was carried out a meeting with first advisor of Assisi Mayor Francesco Minani. During the meeting were discussed perspectives for economic, cultural and educational cooperation between Tskhinval and Assisi.
After that D.G. Sanakoev met with Mayor of Belluno Jakoppo Massaro. At the meeting were discussed issues related to signing of cooperation and friendship protocol.
On 30th March the Minister arrived to Venice where he had a meeting with advisors of the regional municipality of Veneto province. The sides agreed to continue the contacts and develop relations between Republic of South Ossetia and Veneto province. Joint conference of the Ministers of Foreign Affairs of South Ossetia and Abkhazia and advisors of regional municipality of Veneto province for representatives mass media was carried out in the end of the meeting.

Tskhinval, 31 March 2014