South Ossetian Foreign Minister David Sanakoev Interview to REGNUM News Agency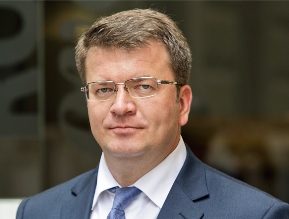 Today, on March, 18, The Treaty on Alliance and Integration between South Ossetia and Russia is being singed in Moscow. David Sanakoev, the head of foreign policy department of RSO, informed REGNUM news agency what positive changes can happen in the Republic and why did the treaty with Russia become the reason for non-confidence vote delivering.

— Definitely it's symbolic that the signing is scheduled for March, 18. A year ago the Crimea joined Russia. Today, despite the difficulties that arose during discussion, a finalized and modified (including by Russian departments) writing of the contract is going to be signed by Leonid Tibilov, the President of South Ossetia, and Vladimir Putin, the President of Russia. I am sure this signing will mark the next stage in development of interstate relations between our countries.
Under the conditions of NATO high activity in increasing military presence in Transcaucasia and approximating to South Ossetian and Russian borders we need to find adequate answers for the arising challenges. Shoring up an alliance with the Russian Federation, the main strategic partner of RSO, is a logical step necessary for establishing closer cooperation in social, economic and humanitarian spheres, foreign policy, in such issues as defense and security in observing international law as well as Russian and South Ossetian legislation. A joint defense and security area will be created after the treaty with Russia is signed. This is going to be a response to any actions putting at threat peace and stability in the region.
Each citizen of the Republic would perceive positive changes In case of favorable implementation of the Treaty. For this reason effective and coordinated work of all government branches is necessary, which, definitely, demands certain efforts. I am sure, however, we can cope with that — having set personal ambitions aside, we would be able to overcome the arisen difficulties, and the Republic of South Ossetia would become prosperous and successful.
REGNUM: This contract can actually cost you a career— the Parliament delivered a non-confidence vote to you because of your disagreement with the draft document prepared by them. Is it true you are against affiliation with Russia?
—No.
REGNUM: Why do the speaker and the vice speaker of the Parliament bring such charges then?
— In my opinion, the parliamentary majority tries "to appropriate" the idea of unifying two Ossetias. They try to depict all other politicians as outcasts with anti-Russian moods. Actually this is a political speculation on an idea that is near to each Ossetian heart - the idea of united Ossetia. Today "Edinaya Ossetia" is the biggest party in South Ossetia, but it doesn't represent the majority of the population. Unifying Ossetias is a much more difficult process than the five-step PR campaign. It is necessary to stop misleading people with rash promises, to pull at their heartstrings and expectations. Reunion is a long process, and before looking for internal enemies, it is necessary to establish our own state institutions, forge relationship with RNO-Alania and do not forget about international processes at the same time.
It is strange for me to be accused of anti-Russian moods. My mother is Russian, I am brought up on mixture of Ossetian and Russian cultures and I do not divide Russia and South Ossetia. I can't still understand the logic of those who charges me of anti-Russian moods. It is simply dishonorable, not manly.
I prefer not to reason on "better tomorrow", but act in the way diplomats should act and perform results without excess noise. On January 17, when I published the draft agreement prepared by presidential political council, it turned out "suddenly" that in South Ossetia they are capable to finalize competently a legally inexpert draft agreement prepared by "Edinaya Ossetia" that had contained gross violations of Ossetian Constitution. This was exactly what caused burst of indignation of the parliamentary majority. In social networks the draft agreement prepared by "Edinaya Ossetia" has appeared at the suggestion of one of the party members on December, 16, 2014. There is a feeling that by having published the draft agreement which later turned out to be very similar to the wording approved by Russia, I overset some unclear plans to keep Ossetian society in the dark about the work on the document.
REGNUM:Russia has been assisting South Ossetia in social and economic development within appropriate investment program for six years already. How do you evaluate this support?
— Russia is our main strategic partner and ally. It's difficult to overestimate the full support it gives us. Our Republic is restored from ruins, social programs and programs of economic rehabilitation are running thanks to it.
Being isolated by courtesy of Georgia, South Ossetia, however, supported by Russian colleagues, implements systematically foreign policy strategy for development. Cooperation with countries that have already recognized independence of the Republic, diasporas and compatriots who live abroad is established. Despite all efforts made by Georgia, even members of the EU are not common in relation to South Ossetia. We try to come into contacts with participants of the international processes and are open for equal, free dialogue.