Announcement of the press-service of the Official Representation (Embassy) of Republic of South Ossetia in Pridnestrovian Moldavian Republic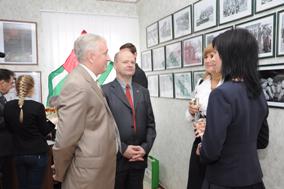 On September 2013 Head of Official Representation of Republic of South Ossetia in Pridnestrovie Sugaro S.V. participated in the reception organized on the occasion of the Independence Day and 20th Victory Day of Abkhazia. The reception that took place at the Representation of Republic of Abkhazia in Tiraspol.

Contribution of people of South Ossetia to Victory of Abkhazia was highly evaluated at the event and was reflected in the book of memories at the Representation.
At the Representation was also shown a big photo exhibition and drawings of Pridnestrovian artists, who described beauty and life of the Abkhaz Republic.
A constructive opinion exchange on cooperation with South Ossetia took place with Chairman of the Government of PMR T. Turanskaya, Head of Presidential Administration of PMR N. Baranova and other officials.
Tiraspol, 30 September 2013