Interview of the Minister of Foreign Affairs of Republic of South Ossetia David Sanakoev to newspaper 'South Ossetia'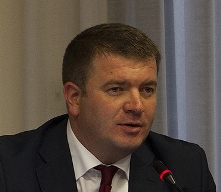 - During the summit on Eastern partnership in Vilnius, Georgia initialed agreement on association with the EU, final signing is planned for next year but they already announced plans on economic involvement of South Ossetia and Abkhazia into joint projects between European Union and Georgia. Above that, during the last year and a half, particularly after assumption of office by the Georgian Dream, representatives of international organizations and some politically committed Russian experts more and more often find it necessary to depoliticize issues between RSO and Georgia and start rebuilding relations in economic and humanitarian spheres. How is South Ossetia going to build its foreign policy, considering these factors, and how South Ossetia is going to react on the attempts of its involvement into economic and humanitarian projects with Georgia?

- We never had doubts that Georgia would not change its strategic direction and goals in respect of South Ossetia. They of course use all available leverages that to captivate RSO and place it under command by all means.
Georgian authorities tried to achieve their goals by force but they did not succeed, now they are trying other methods. Presently Georgia is carrying out policies of the previous Georgian leaders, that is alienation with Russia and systematic convergence with the West. They are trying to put right the relations with Russia but their aspirations to enter European structure are also there and are taking new formats. The EU association agreement is one of those steps.
As for South Ossetia, all the steps that we will take in the foreign policy will be aimed to protect interest of our country. Our Republic is interested in strengthening the security and economy of the country.
We are also implementing works on international recognition of our state. Needless to say that it is a very hard work to do. MFA of RSO is making every effort for achieving results in the process of recognition of our sovereignty, recognition of our country as an independent existing state despite all the economic and political difficulties. South Ossetia is a country that exists for more than 20 years. Our independence was recognized by Russia and other countries: Nicaragua, Venezuela, Nauru, Abkhazia, Tuvalu.
That is our position. All the issues should be discussed directly with the authorities of the RSO but only after acceptance of certain conditions. As it is well known, one of the paragraphs of the International Geneva Discussions states that Georgia should guaranty non-use of force against Abkhazia and South Ossetia. This means that Georgia should sign an agreement on non-use of force with Abkhazia and South Ossetia as it should be between civilized states. At the present time Georgia is not ready and tries to avoid this issue but our diplomats will systematically obtain security guarantees for South Ossetia. After the guarantees are received, it will be possible to start working on appropriate interstate relations and talk about economic projects. Georgia is now trying to change the law on occupied territories, soften some of the wordings but the content remains the same, this is unacceptable for us. We have informed about it representatives of International Organizations that participate at Geneva Discussions.
Georgian leadership is taking steps that they believe facilitate establishment of new relations between us, however we do understand that it is a strategic plan of Georgia which does not correspond with independence of South Ossetia. Therefore all the initiatives run against lack of possibilities for cooperation. We try to bring the situation to a civilized interstate dialogue but Georgia is not interested in a dialogue. Therefore, other proposals are inappropriate.
People of South Ossetia determined their development vector at the referendum that confirmed that South Ossetia should be an independent sovereign state. Position of Russian Federation was expressed by the President, Prime-Minister and Minister of Foreign affairs a number of times. The point is that Russia will support further development and strengthening of sovereignty and statehood of South Ossetia, facilitate improvement of living conditions of the citizens of the Republic. It is very important for us. At present time relations, including interdepartmental contacts, between South Ossetia and Russia are developing despite the resistance of some western countries such as Georgia and United States, agreements are being signed in the most important spheres.
There were times when many people did not believe that South Ossetia will be recognized, however political environment often develops unpredictably. We are not claiming anything, we are only defending ourselves, therefore truth and strength is on our side. That strength helps us to move forward. Statements of some people, that often do not know South Ossetia well enough, influence neither external, nor internal policies of RSO.
- What are the perspectives for development of relations between South Ossetia, Abkhazia and Transdnestria considering the frequent high level contacts?
- We proposed to develop our relations with brotherly states of Abkhazia and Transdnestrian Moldovan Republic, regular meetings are carried out on high level. This year South Ossetia was visited by President of Transdnestria, our President visited and participated in celebration of the Victory day in Abkhazia. Regular meetings take place in interdepartmental format, besides Ministries of Foreign Affairs of South Ossetia and Transdnestria were instructed to amend framework agreements on friendship and cooperation between our countries, signed in 1990, so that we could move to a new level of cooperation. The perspectives are in cultural and economic exchanges, development of relations in spheres where we could support each other. Therefore, relations between the three republics will only strengthen and develop.
- MFA of the RSO is working on international recognition of South Ossetia, there are appeals to a number of countries, including European countries, with a request for recognition. Although skeptics doubt in perspectives of those appeals, do you think is it worth moving in the European direction, what results should we expect?

- We of course should develop our foreign policy activities and of course MFA of RSO is approaching for support to our colleagues that have more possibilities such as Russian Federation, Nicaragua and Venezuela. We work with them closely. As for appeals to Italy and San Marino, we will continue working in this direction. That is not an easy thing but we find support not only among the population of Italy but also among the politicians that are in power today. Development of the relations is done through interparty contacts. They are ready to raise the issue of South Ossetia and Abkhazia at their committees at the parliament and senate of Italy. We count on support of our friends in further development of our relations. It is not only about political recognition, we also discuss issues of economic and cultural cooperation. I believe here we will find points of contact. There are many possibilities that we can use for the good cause of South Ossetia and those countries that are negotiating with us. We have started our contacts with the Czech Republic, where we negotiate both with the politicians and the business community, Czech companies that are ready to cooperate with South Ossetian firms.
We should also mention cooperation with the Diasporas through social organizations. For the last three years were organized Days of Ossetia in Europe, our artists exhibited, carried out different cultural events and introduced South Ossetian art to the Europeans. Work for improvement of positive image of South Ossetia is done in different directions , we have to show that we have not only problems but also some achievements in different fields.
- Last week we heard that Russia excluded South Ossetia from the list hazardous countries. What does that mean for the Republic?
- That proves again that South Ossetia is a stable country with internal and external security despite Georgia that refuses to give security guarantees and is doing, often with the help of European structures, everything possible to discredit Republic of South Ossetia. The decision of Russia shows a systematic approach to relations with our Republic.
These kind of decisions are made with detailed consideration of all the factors, of course that influences our image and perspectives of development not only in political field but in other fields as well, including the economy. Now it will be easier to promote interests of South Ossetia internationally. We should use every possibility to present South Ossetia positively and the approach of Russia allows us to talk about the positive processes taking place in South Ossetia.