Archive - Jun 22, 2017
Dmitriy Medoev, the Minister of Foreign Affairs of the Republic of South Ossetia, hosted a meeting with Farrukh Islomov, Head of the Representation of the International Committee of the Red Cross (ICRC) in South Ossetia, on June 22.

In the course of the conversation, issues related to the full range of activities of the ICRC Representative Office in South Ossetia were discussed. The Head of the Representation of the ICRC's Office informed the Minister about the most significant areas of work including humanitarian problems and plans for the near future.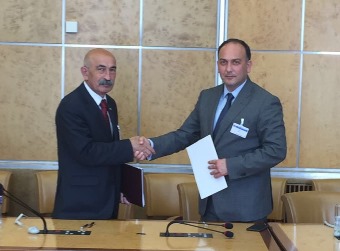 The UN General Assembly has been accepting draft resolution on refugees and displaced persons from South Ossetia and Abkhazia prepared by Georgian party for several years already. Delivering again and again the same writing of the document Georgia tries to impose on international community a unilateral politicized corrupt vision of the problem of refugees to support their non-legitimate territorial claims.
Pertaining to the results of the 40th round of the Geneva International Discussions