Archive - Apr 2016
April 11th
Alan Kochiev, the Deputy Minister of Foreign Affairs, hosted a meeting with Semen Afiyan, the NKR MFA Secretary General, and Artur Tovmasyan, the Head of faction "Rodina" (Motherland) of the NKR National Assembly, on April 11, 2016.

In his greeting speech Alan Kochiev stated that people of South Ossetia follow the situation in the Nagorno-Karabakh Republic, sympathize with fraternal people and wish speedy solution to the crisis. He also offered condolences to families of victims.
April 6th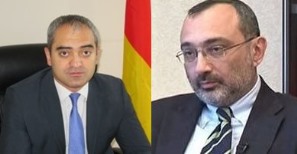 Telephone conversation between Kazbulat Tskhovrebov and Karen Mirzoyan, Ministers of Foreign Affairs of the Republic of South Ossetia and the Nagorno-Karabakh Republic, was organized on April 6, 2016.

Minister Tskhovrebov expressed serious concern over the affairs in the Nagorno-Karabakh conflict area. The Minister assured his colleague that South Ossetia people follow the development of situation and offered words of support to people of the Nagorno-Karabakh Republic. The need to exercise commitment and moderation for preventing uncontrolled escalation of the conflict, that can destabilize the entire region, was emphasized.
April 3rd
Pertaining to tens situation in the Nagorno-Karabakh conflict area
The Republic of South Ossetia expresses serious concern over the ceasefire regime violation and marked aggravation of the situation in the Nagorno-Karabakh conflict area. Particular concern is caused by reports on heavy weapons and military aircraft used by the parties. Military operation launched by the national Army of Azerbaijan against the Nagorno-Karabakh Republic Defense Army resulted in numerous victims including civilians.
April 2nd
Leonid Tibilov, South Ossetia President, arrived to Moscow on a working visit on March 31.

Wide range of questions on bilateral cooperation, including first of all, the assistance given to the Republic of South Ossetia by the Russian Federation in social and economic spheres in framework of the investment program, were discussed at the meeting with Vladimir Putin, the President of the Russian Federation.
President Tibilov noted the high level of South Ossetia-Russia relations and emphasized the priority of security issues vital for the Republic as well as the importance of further implementation of the Treaty on Alliance and Integration signed between South Ossetia and Russia in March 2015.